Programmatic Advertising Made Easy with Our Digital Advertising Software
Take back control of your digital advertising.
Execute programmatic ad campaigns at any scale with our all-in-one digital advertising software. Determine which targeting tactic is right for your campaign goals. Enjoy simple campaign setup and personal support.
Campaigns
Plan & manage your digital
advertising campaigns
Quickly manage and optimize multiple advertisers and programmatic ad campaigns, no matter your campaign goals. With customer onboarding and easy-to-use, feature-rich digital advertising software, you can plan and execute campaigns with efficiency and ease.
Launch
Easy setup and execution
Flexible and effective line-item bid adjustment options
Reach
Access to 98 percent of online ad inventory
Access to 40-plus ad exchange networks
Performance
Performance tracking
Powerful auto-optimization tools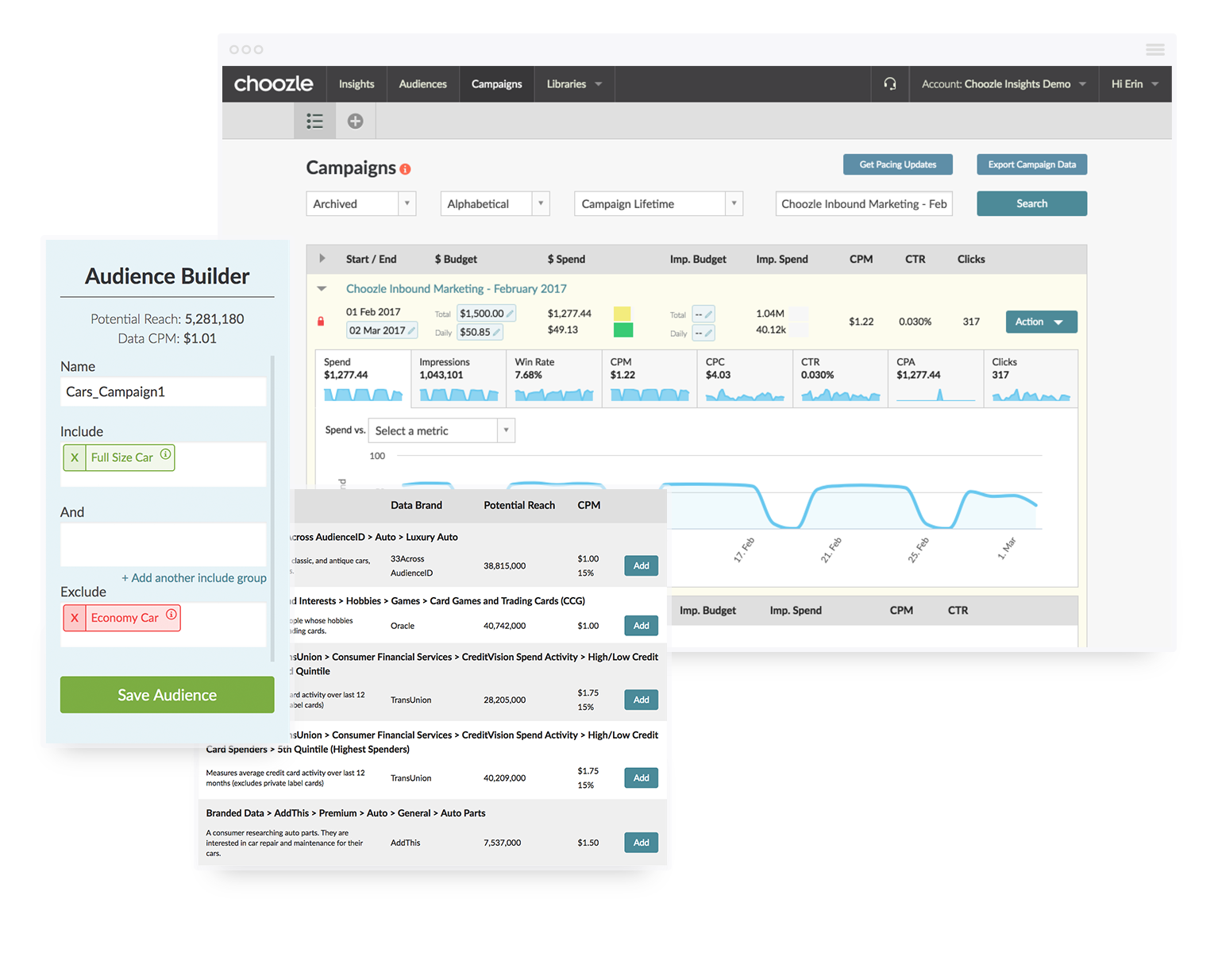 Targeting Tactics
Data targeting at scale
Launch highly-targeted campaigns with custom audiences created from first or third-party data. You can also target specific locations or based on web content and page categories. We offer tools to seamlessly combine first and third-party data to create custom audiences comprised of your most valuable users.
First-party Data
IP Targeting
CRM Data Remarketing
Site Targeting
Email Retargeting
Third-party Data
60+ data providers
Purchase History
Behavioral Targeting
Psychographics
Location & Content
Geolocation Targeting
IP Address Targeting
Contextual Targeting
Keyword Targeting
Postal Code Targeting
Private Marketplace
Creative & Channels
Desktop
Mobile & Tablet
Pre-roll & Video
Connected TV
Audio & Podcasts
Other Targeting
Device Targeting
Page placement
Whitelist Targeting
Cross-device Targeting
Native advertising
Supported Solutions
Scale as you grow with Supported Solutions
Leverage new targeting strategies. Keep one step ahead of emerging trends. With our Supported Solutions, you can continue to grow beyond the basics and master new tools, technologies, and features to improve campaign performance—all with the help of one of our experts. See pricing for our Supported Solutions.
Tactics
Geoframing & Geofencing
Language Browser Targeting
Brand Safety & Viewability
Device ID & MAID
Lookalike Modeling
Dynamic Passback Tracking
Email Advertising
Custom Data Solutions
Reporting
Optimize faster with real-time reporting
Analyze all aspects of your digital advertising campaigns with dashboard, exportable, and API-driven reporting. With this kind of in-depth reporting, you have a view into performance at every level of the campaign. Detailed, transparent reporting helps your team optimize quickly and set the course for successful campaigns.
At a glance
Quick PDF reports
Excel reports
Drive Optimization
Detailed reports
Site, Targeting, and Creative
level reporting
Integrate
API Integrations
Email pacing notifications
CRM & Customer Data
Leverage CRM & customer data
Take your digital advertising to the next level by using your first-party data to build retargeting and CRM targeting campaigns. For an additional $200 per month, a Data Package unlocks Web Insights and CRM Onboarding to define the most valuable data segments and data audiences to use in any digital advertising campaign.
Retargeting
Raise brand awareness
Bring high-value users
back to your site
Customer Segmentation
Define your potential markets
Deliver relevant and
precise messaging
CRM Onboarding
Tap into first-party data
Bring offline data online
Web Insights
Identify high-value users
Unlock data points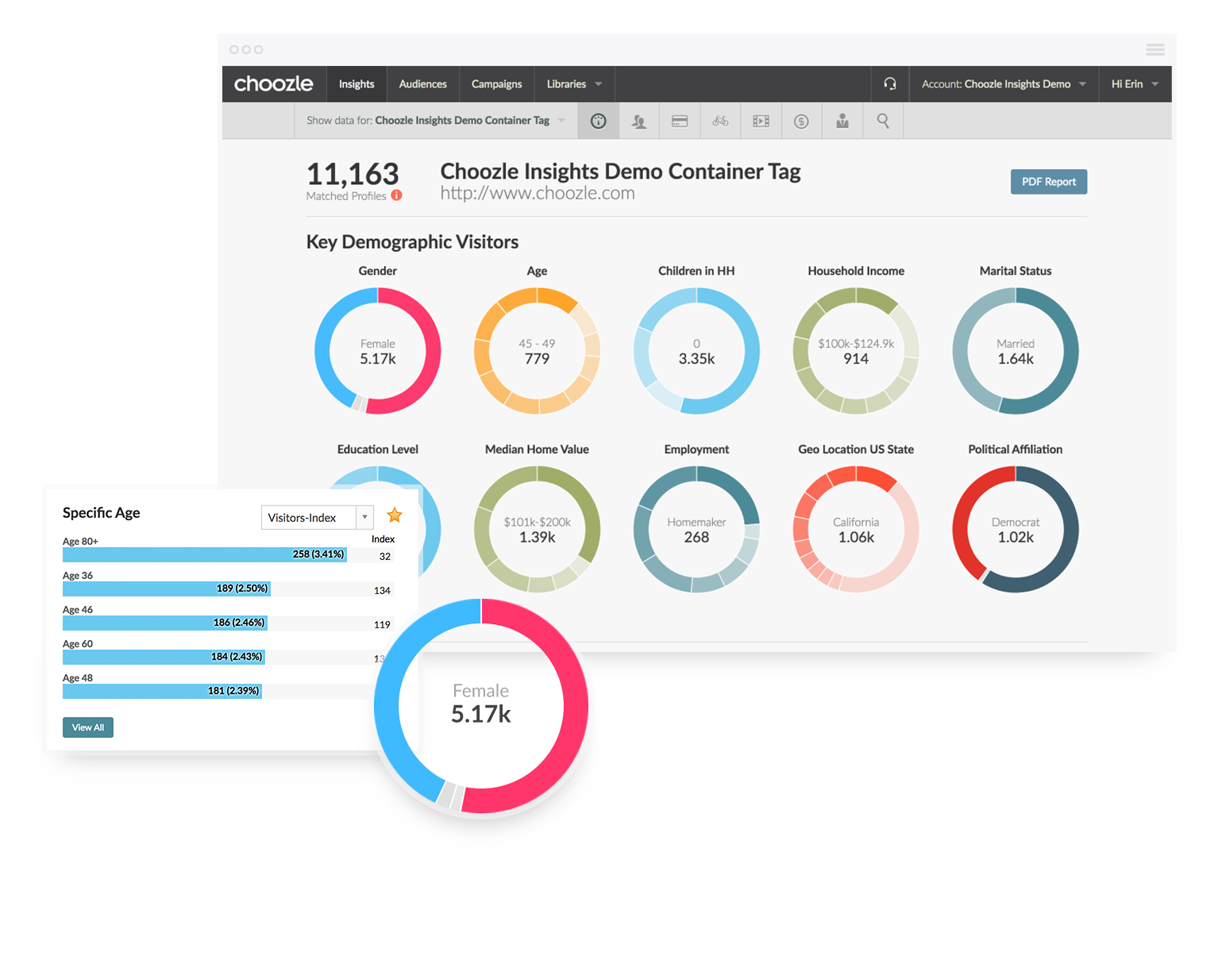 Education
Education and technology experts
Stay ahead of the curve as the industry evolves. We explain all the important terms, concepts, and best practices you need to know to achieve self-service success. From day one, you'll gain access to our knowledgeable team and educational tools to learn—or brush up on—digital advertising and our advertising software platform.
Online Learning
Support Center
Setup and troubleshooting
Choozle Knowledge Base
Personal Support
Choozle Academy
Platform onboarding
Interactive educational tools
Ongoing Support
Bi-monthly webinars
Product feedback
Support
Personal support & troubleshooting
We're more than our technology. Choozle is about the people using our software and the people behind it. Our expert Client Experience and Platform Operations teams are here to assist you with campaign setup, optimization, and troubleshooting.
Setup
Assisted campaign setup
Troubleshooting
Knowledge Base
Ongoing Support
Choozle Office Hours
Support Ticket system
Brand Safety
Fraud protection
Bot protection
Privacy Compliant/
Ad Choices Compliant
Partnerships
Network Advertising Initiative
Interactive Advertising Bureau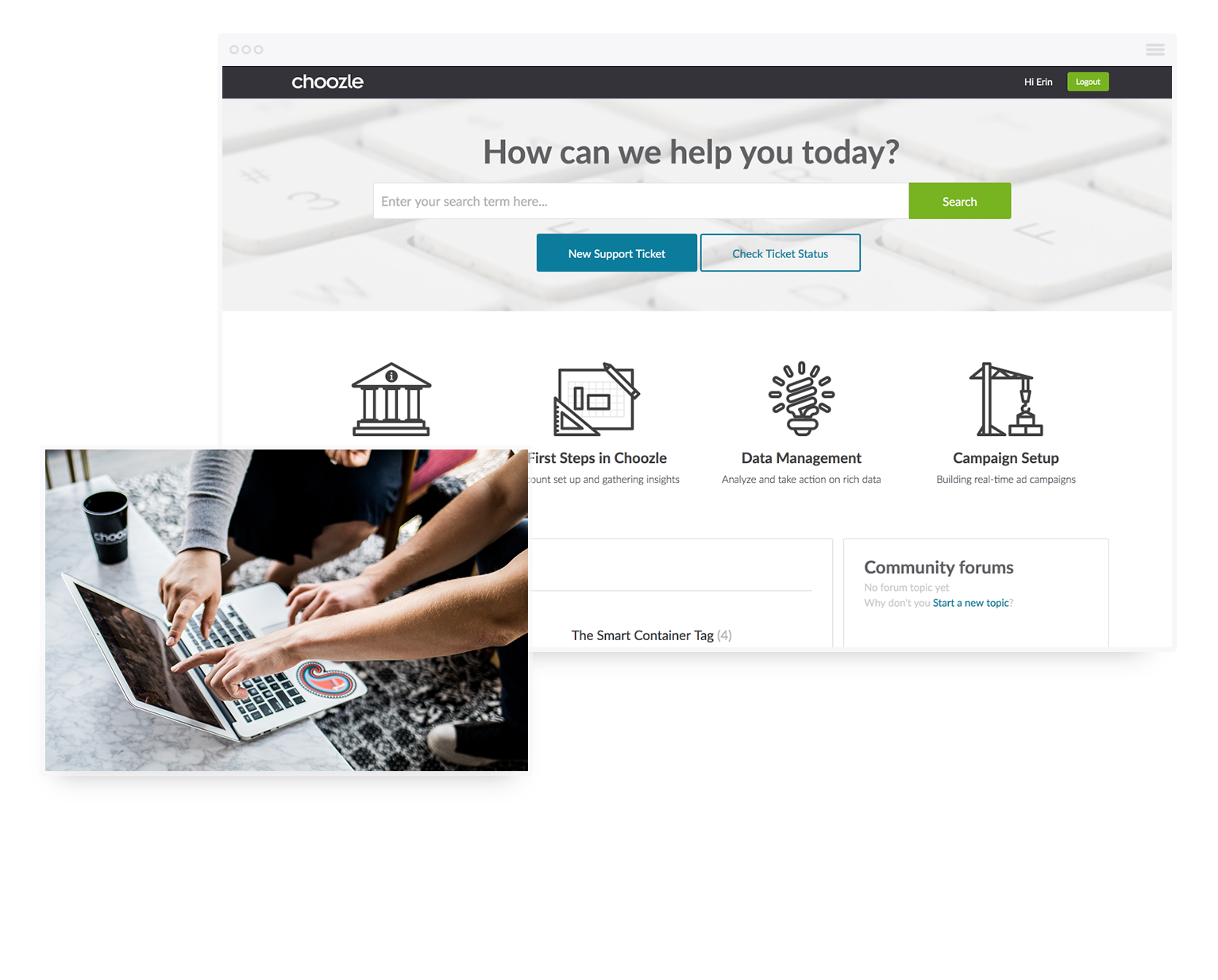 Frequently Asked Questions
Have questions about pricing, billing, or Data Packages? See everything you need to know before getting started.
See how the power of big data & the efficiency of real-time advertising blends into a simple platform.
Digital advertising software platform
Unlimited advertiser accounts
Powerful analytics and dashboard reporting
Access to 60-plus premium third-party data providers
Personal support & online learning