When someone makes a purchase, it is never without influence and very rarely after the first exposure to a brand. Catering your messages and tactics to align and guide your potential customers through the decision-making funnel will yield long-term results, as each stage demands its own tactics and goals to ensure it fuels user action.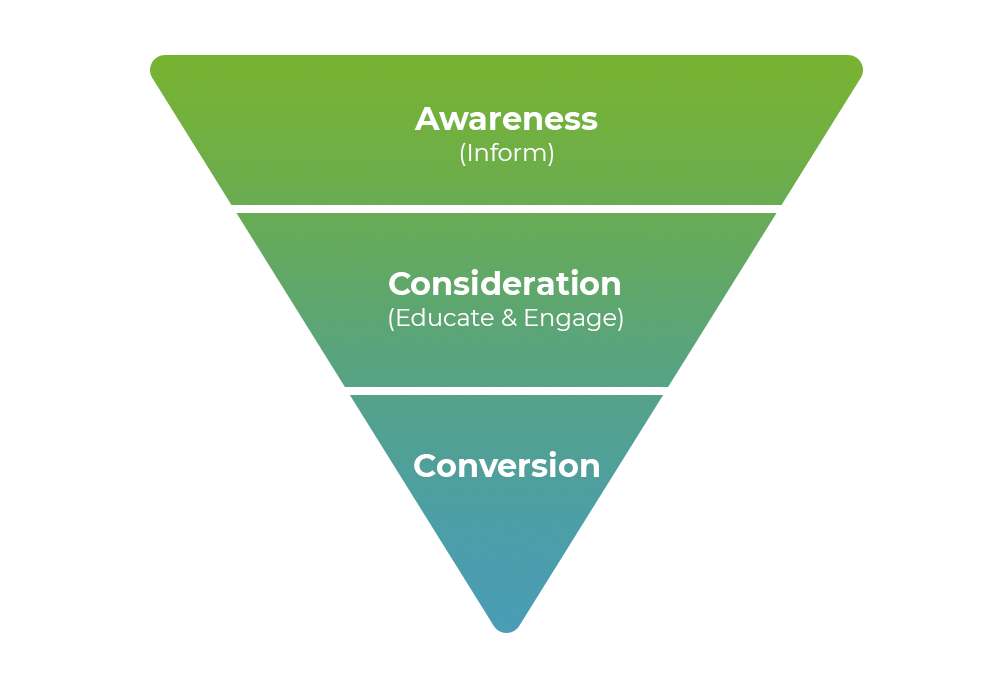 The 411 of the Consideration Stage
The middle of the funnel, also known as MOFU, is where potential buyers have realized the need they have and are now exploring solutions to address it. The best way to earn business in this stage, and continue driving consumers onto final action, is by providing content that aids their decision-making process and provides clear next steps.
Use this time of discovery as an opportunity to earn your customer's trust and to establish proof of your solution's success. The content you show your customers in this stage should be informative and educational before becoming a sales pitch. Think about the questions your potential customers are asking themselves in this moment and focus on answering those. 
And remember, this stage is not where sales are made. This stage is about identifying the hand-raisers—the users actively seeking out information and reviews on your products or services—so that we can deliver them relevant content that will ultimately encourage them to act. 
Tactics to Consider(ation)
Choozle, as a platform and a partner, offers several tools that target customers in the consideration stage. Creative media like videos and rich media display ads do a great job to capture attention among the quick-scrolling audiences and can speak directly to your unique solution through a story-telling format. Contextual targeting and native advertising on websites and emails work well to capture user attention when they are actively browsing content related to your offering. And tools like paid search and social media ads work well to provide more upstream information to people currently searching for a solution.
Are consideration efforts a success?
As you begin to show the value of your consideration campaigns, consider the entirety of the marketing funnel when outlining goals, and map out what events and actions are meaningful at each stage while assigning KPIs to align with those actions. In the consideration stage, we need to understand what activities users should be completing before they are ready to take a final action—and understand what behaviors indicate they're actively engaged.
Before customers go on to make a decision, they should be satisfied with the amount of information they have access to. This is why it's important to look at metrics and goals connected to the considerations stage to be an indicator of your success.
Channel data

like

search volume and clicks are critical for marketers to understand what messaging and/or audience targeting layer is piquing user interests to get them from an outside source to your website. Using search engine marketing, we can understand through search behavior where users are in their journey—are they searching for non-branded information? Searches like "near me" or "best" indicate they're early into their information gathering, trying to source and consider their options before a decision is made. With channels like programmatic or social, we aim to see what targeting tactics and messaging are driving clicks and interest, but are not yet converting users. 

Website engagement

like overall traffic, session duration, pages per session, and event tracking gives us an indication of which users are most engaged on-site. Through UTM tracking, we can understand which channel sources, tactics, and targeting types are driving the most qualified people to your site's content. UTMs are also critical to be able to look at behavior flow (where are users dropping off the site or what pages are they going to next), channel path (what touchpoints play the largest role in driving conversions), and assisted conversions (what interactions are involved prior to the last-click conversion).
The previous blog in our series is focused on tactics and strategies that serve audiences starting in the awareness stage.
Read part one of the full-funnel marketing series here.
Using your data to track goals is the best way to show success throughout all of the stages in the marketing funnel and set yourself up for success in the next. By viewing your results live and with custom visualizations in the Detailed Reports section, you can start to spot trends and build campaigns focused on what works best for you. 
---
The consideration stage is vital to building a valuable and educated audience for the conversion stage of the marketing funnel. Once your audience understands how your product or service acts as a solution for the problem they are researching they will be much more receptive to any other information or offers that will make it easier for them to make a purchase.
Katie Harker is Choozle's VP Media and Operations. An experienced media planner and buyer, solver of problems, and driver of results, Katie works closely with client's media execution and emerging opportunities at Choozle. When she's not at work, you can find her skiing, playing tennis or volleyball, and uncorking a bottle of wine.