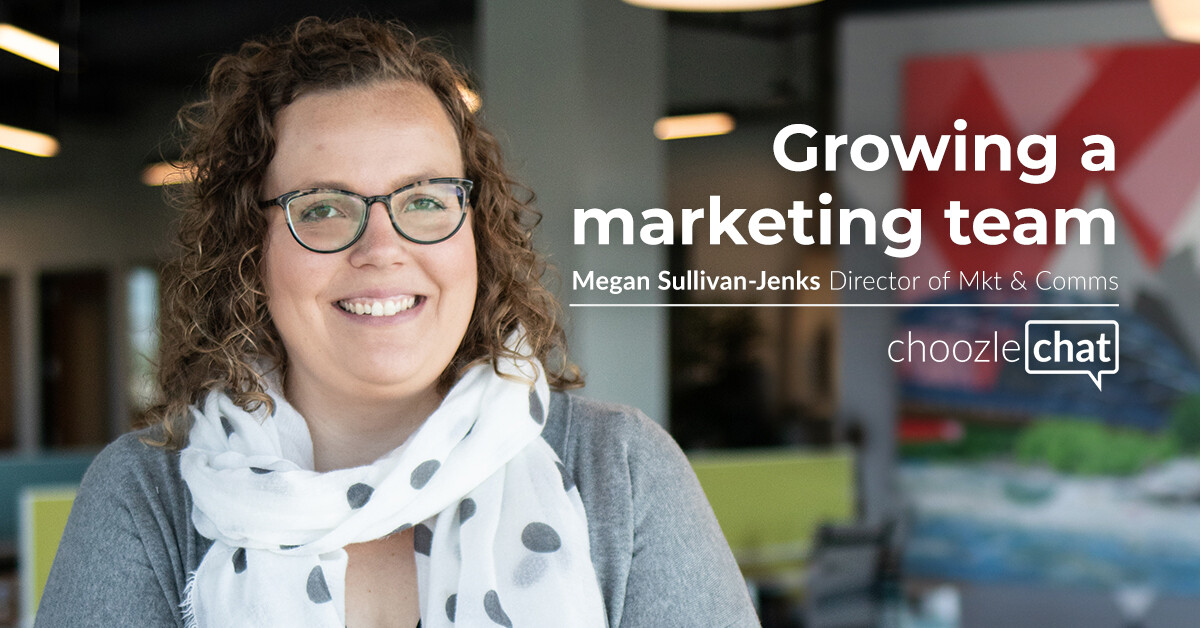 Hannah Middleton, Content Manager at Choozle: What's your favorite part of being the Director of Marketing, and growing the Marketing team at Choozle?
Megan Sullivan-Jenks, Director of Marketing and Communications at Choozle: Marketing is the glue that holds things together, especially with a growing tech company. This has enabled me to have a hand in aspects across departments in our company and build unprecedented programs.
HM: You were the second employee at Choozle, and now you're managing a team of five (including yourself). What's the first hire you made, and why was it important to have that person on the marketing team at that time?
MSJ: For my first three years at Choozle, I was a team of one. I handled everything from content development to design to lead generation. The first addition to the team had to be a marketing generalist because we had so much ground to cover. This is very typical with small marketing teams at growing companies.
HM: On the same token, when did you decide it was time to add more people to your team?
MSJ: The Marketing team has become more specialized because of the type of projects we're producing. By the time we got to heavy web design and video production, we needed to bring in that specialized skill set versus making do with what we have. The final result was the best-design solution, not the fastest.
HM: Do you outsource any aspects of the overall marketing strategy?
MSJ: The majority of our marketing strategy is executed by our internal Marketing team. We understand the intricacies of the brand and product that most outsourced teams wouldn't. This enables us to have a better marketing program overall. The only exception is SEO implementation because search strategy and best practices change so quickly, and an outsourced specialist would be on top of these trends.
HM: What's the hardest part of running the smallest team at the company? Any advantages?
MSJ: By far, the hardest part is managing time and expectations for all the things we want to do. But this challenge has positioned us to use the "Build-Measure-Learn" approach to all our projects. Build-Measure-Learn is a framework for establishing and continuously improving the effectiveness of ideas, projects, and programs quickly and cost-effectively. In practice, we're able to build small solutions while continuously improve our offering so that we eventually deliver precisely what both our customers and team want.
HM: Marketing departments are notorious for being hard to relate to. How do you make sure the other departments at Choozle are seeing eye-to-eye with marketing?
MSJ: Marketing is like having a great wingman or wingwoman who introduces you to someone at a party. But sometimes, the Marketing department's work to get to a successful program is often overlooked. At its core, marketing is supposed to raise awareness to increase business. Within my communication with other departments, I relate all the Marketing team's activities and programs to how they influence the increase in budgets. Because in the end, people outside of marketing don't really care about SERPs or page ranking gain.
HM: What tools have you found helpful for keeping yourself and your team organized and productive?
MSJ: Tools that streamline processes have been critical to scaling the Marketing team and our work. This includes project management tools like CoSchedule and Jira, as well as automation tools like Zapier and Customer.io.