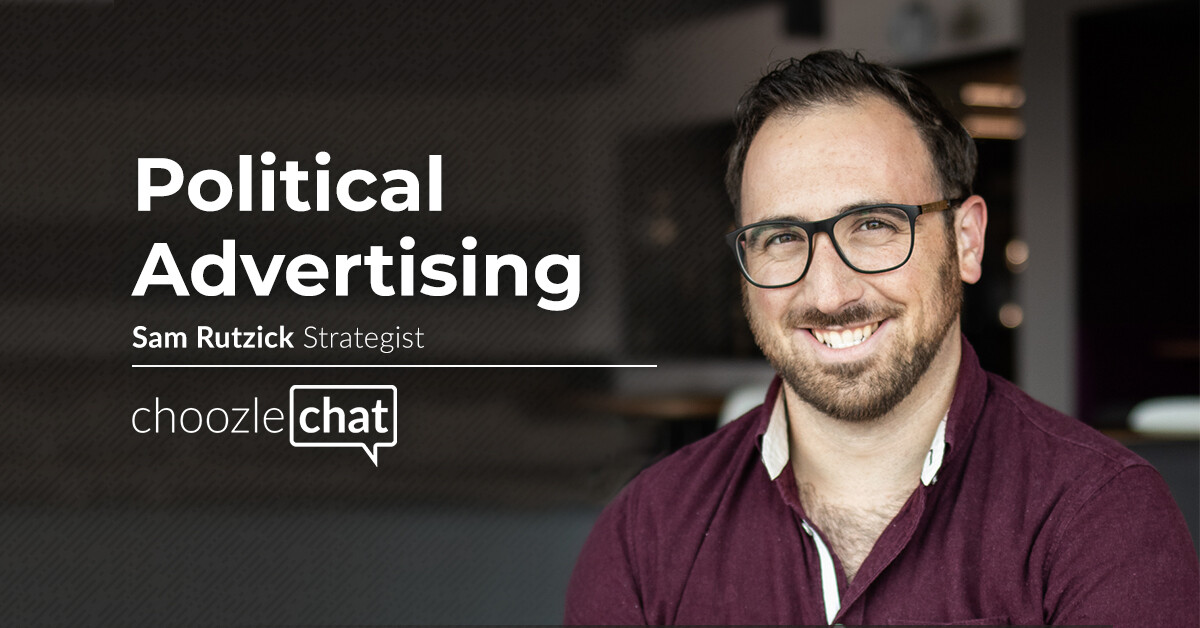 Megan Sullivan-Jenks, Director of Marketing at Choozle: What are the main purposes of political advertising campaigns?
Sam Rutzick, Account Strategist at Choozle: Political campaigns exist for two main purposes: To drive donations for a cause or a candidate, and more importantly, to make key voters aware of candidates & their issue stances and ultimately winning their votes on election day. Campaigns and other political organizations have been able to construct incredibly specific voter profiles to target with specific messaging that gives them the best chance at making the vote go their way in November.
MSJ: With the midterms this year, things are shaping up to be a huge year for voter turnouts. Does that equal pricey, more coveted inventory for political advertising?
SR: So far it looks to be that way. People are incredibly motivated by a number of drivers to vote this year, and primary turnout numbers have reflected that. Many states, including us in Colorado, saw a record turnout in primaries and it is very likely that will be the case in the midterm election as well.
This is an incredibly high-profile election, and winning the votes of independents and new voters will be imperative for both the Democrats and Republicans to be successful this November. So, competition for those impressions will be huge. Combine that with record numbers in campaign and PAC funding and you get some very pricey ad placements.
The good news is that as the programmatic space grows more advanced, more mediums are opening up to get a campaign's messages in front of voters. With the rise of programmatic audio, Connected TV, and the general increase in programmatic inventory out there, the number of available impressions should scale with the amount of money that campaigns and other organizations are allocating to programmatic advertising.
MSJ: How do you ensure data isn't misused?
SR: Any time clients are using political data, they will need to sign a non-disclosure agreement with that provider that they will only use the data for political campaigns.
We know that once a client's data is uploaded to the Choozle platform, it is processed and stored in a secure environment. But as a self-service platform, it is ultimately the decision of our client's operators to determine which data set they use and how the data reaches the Choozle platform. Strategists like Sam aim to provide our clients with considerations for how they use the data: What is the messaging of your ad unit, and is there a certain context where someone should or should not see this ad? Politics is like health care—if you show an ad with sensitive or identifying information in an embarrassing context, you'll do more harm than good in developing your relationship with that prospective voter. More so, as a voter, I'd hope that if someone is campaigning to work in the public sector and shape our society, they'd be ethical in how they use voter data.
MSJ: What targeting tactics do you recommend to your political advertising clients?
SR: Third-party data is the most commonly used tactic, and a number of data providers like L2, VAN, and i-360, amongst others, specifically offer political data for use in digital advertising campaigns. This data is great for targeting specific groups of people who lean one way or another on party affiliation, voter turnout, issues, and more.
First-party data in the form of voter files is also a popular way to target a specific subset of the voter base with certain messaging. Using this data is a great way to measure turnout; You can reference Secretary of State data after the campaign has concluded to see who you served ads to that ended up voting in the election.
Contextual Keyword is perfect for getting ads for specific issues in front of voters while they browse relevant content online.
Geofencing can be used to effectively hit voters, e.g., fence a political rally to serve ads to those who attend.
MSJ: How often do you run ads for ballot issues?
SR: Ballot issues probably only come up 20 percent of the time when we see political campaigns in the platform, but they are becoming increasingly more common with each election.
MSJ: And do you recommend Connected TV as a strategy?
SR: Absolutely. Connected TV is a great way to hit cord cutters and reinforce your linear TV spots, but its true value comes in providing a testing bed for linear TV spots.
Campaigns and PACs shell out tens of thousands of dollars for a TV spot, but you don't get much in the way of metrics back from that. To ensure you're putting the best ad on TV, campaigns can A/B test creatives on Connected TV audiences to see what performs best, then choose that ad for the linear TV placement. In future campaigns, the cord cutter audience will grow to a point where Connected TV might have more spend than linear TV, but for the time being it is best used as a testbed for creatives you want to end up placing the old-fashioned way.
MSJ: You've mentioned before that political advertising is, ultimately, all about strategy. What are the top strategies for this space?
SR: Every campaign breaks down the overall voter base into different audiences that you target, so choosing the right message and allocating the right amount of budget to each one is key to winning the race. Usually, campaigns are working with polling organizations to keep tabs on how they are performing with these audiences and will reallocate budgets accordingly.
Typically, statewide races will focus on hitting a few specific regions of the state to hit different voter bases. For example, the ads you would serve to a person living in the San Francisco Bay area for a Senate race will be pretty different from the ones you are serving to a person living in the Inland Empire region of California.
MSJ: What are the advantages of using a self-service platform for something as intense as political advertising?
SR: The biggest benefits are transparency and turnaround times. Oftentimes political agencies and organizations have a campaign that needs to get going immediately, but they rely on managed service providers who may not respond to their request immediately (especially with the ones that come in late at night). A user being able to log on and manage campaigns themselves is much easier to make changes on the fly and allows the liberty to spin up a campaign in as little as ten minutes.
On the transparency piece, many managed service providers are on the opaque side of things when it comes to where the placements are happening and what targeting they are using. With the amount of money being spent on these campaigns, it is imperative that the agencies running them know where they are being placed, how they are targeting, and what performance they're getting by sites and audiences.
---
If you're interested in winning more impressions for your political campaign this quarter, we can help! Just send us a note or schedule a demo.