Successful marketing strategies need to meet customers wherever they are in their shopping journey. By employing a clearly defined media mix in which each channel has a distinct yet connected goal to drive customers further throughout the marketing funnel, you'll be able to create campaigns that speak directly to your customers' needs while providing a solution.
Every brand ultimately prioritizes driving conversions at the end of the sales funnel, but to do that, you have to draw prospects into the top of the funnel first. It is never an "either/or" proposition.
In today's fragmented media landscape, a full-funnel marketing approach that uses a strategic media mix will be able to balance long-term goals involving building the brand while meeting short-term goals and achieving results.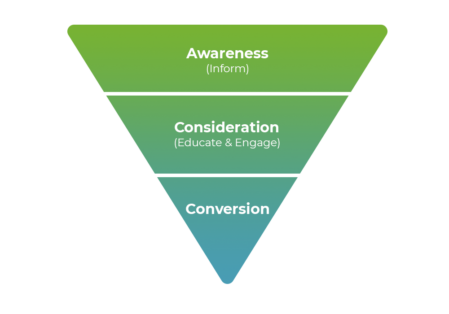 This type of holistic approach to marketing will help "raise the lake" on performance throughout the rest of the marketing funnel. By coordinating multiple marketing campaigns and messages to work together, a full-funnel strategy moves people along their customer journey and targets the most qualified audiences with more refined messaging as they get closer to the conversion stage. Brand awareness efforts at the top of the funnel increase the number of conversions at the bottom of the funnel, contributing to a higher return on ad spend (RoAS).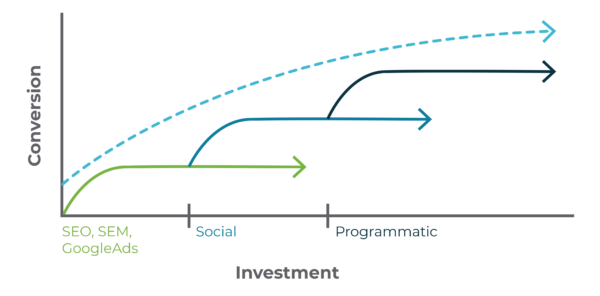 A clearly defined media mix has focused optimizations and targeting criteria to create scale and efficiency throughout the marketing funnel. Programmatic platforms leverage machine learning and artificial intelligence (AI) to automate time-consuming, manual tasks such as bidding and ad placement.
A clearly defined media mix for your marketing funnel will give you:
More control over campaign setup and optimization
Greater campaign management and reporting speed
More flexible budgeting and revenue streams
Increased perception as a digital media thought leader