"I planned out our whole day: First, we'll make snow angels for two hours, and then we'll go ice skating, and then we'll eat a whole roll of Toll-House cookie dough as fast as we can, and then to finish, we'll snuggle." – Buddy, Master Tinker Apprentice
With the holiday season quickly approaching, your marketing plan is probably looking a lot like Buddy's list of holiday must-dos–making creative, building audiences, trafficking cookies, and more. Just like any campaign to-do list, your holiday marketing strategy and execution need to be ready for prime time.
For the 2020 holiday season, digital marketing will be particularly important, since consumers have been spending more time online due to the coronavirus. This holiday season will undoubtedly look different from previous years–less travel, more online purchases, and virtual or socially distanced gatherings with loved ones.
With a little thought and preparation, you can adapt your holiday marketing strategy and execution to make the most of our new holiday landscape. And we're here to help. Inspired by some wise words from one of the best holiday movies, Elf, we've put together a list of the five tips for your holiday advertising campaigns.
Tip #1: "Santa's Coming!" Start now 

This tip might be an obvious one, but it shouldn't be overlooked, especially this year. The holiday shopping season will be longer than ever with COVID-19, changes to the back-to-school season, and increased online shopping. According to the National Retail Federation (NRF), "40 percent of consumers begin their holiday season shopping before Halloween."
Beginning your digital advertising strategy at least two to three months in advance of the prime holiday shopping season is ideal. For most consumers, the buying process will start much earlier than when the purchase is made. It would be best to spend time and budgets showing your potential customers why they should buy with you well before they are ready to buy and nurture them through the sales process.
You are allowing an ample amount of time for the consumer to become aware of your brand. This will enable you to ensure you are serving to an audience that is most likely to buy, rather than initiating customer discovery at a time when sales are so critical.
If we can learn anything from Buddy, it's that the best elves and marketers plan well in advance.
Tip #2: "The best way to spread Christmas cheer"
is engaging creative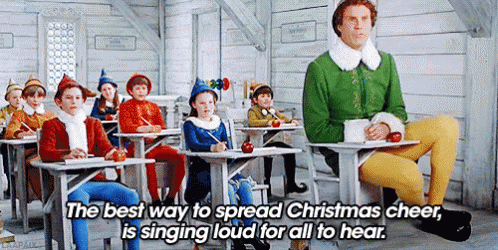 The holiday season is a time to stand out with your creative message. This is why it is our #2 tip. Creating eye-catching creative assets is one of the best ways to reach your desired audience. Your creative assets for your holiday campaign can be festive, emotional, or humorous, but it should be bold and fit with the overall theme or focus of this year's efforts.
With the state of 2021, you should think about how you can evolve your creatives and messaging to reflect your target audience's current situation and context.
Another way to engage your target consumer is to include any special offers or deals on the creative, especially for returning shoppers. These can be displayed as the main headline, "Save with us this holiday season," or the call-to-action "Save 15% Today".  Most importantly, ensure you create unique touchpoints with shoppers who visited you over the past few months by serving up relevant offers appropriate for the holiday season. This way, you are reaching an audience that is already aware of your brand.
Tip #3: "Ow! Son of a nutcracker," that didn't work
After an unprecedented year, many consumers and retailers are looking forward to the holiday season, but they know that many traditional activities like Black Friday shopping aren't a reality. More brands and stores are focusing on ecommerce sales, which is expected to increase competition even more. Around 61 percent of retailers expect more activity through digital advertising channels, and businesses are ramping up their holiday marketing plans. As we approach the holiday season, it is essential to note that many unknowns and strategies won't always work.
But don't fret, there are adjustments you can make to be successful. 
Whether you're reaching for CTR, CPA, CPC, or reach, we recommend waiting about a week before making adjustments to your ad groups. This also applies to the types of targeting strategies you are using. With this amount of time under your belt, you'll be able to see more accurate data on your results and decide where to make changes.
As you start to make changes CPMs, keep in mind the bigger picture. If we look at the CPM trends of previous years, CPMs gradually increase with the last week in November, standing out as the tipping point on a slight upslope trajectory.
Going into Q4 2021, CPMs are lower this year than usual due to COVID-related impacts. The political season may cause CPMs to increase at a more aggressive rate than previous years, but it's likely to stay within a similar realm of Q4 pricing over the past two years.
As the week's progress in Q4, it is essential to keep a close eye on win rate and pacing metrics as they will indicate if your CPMs are competitive enough to win the available inventory. Think about planning by increasing your base bid and max bids before well Thanksgiving weekend to capitalize on increased demand.
Tip #4: "You did it!" but don't stop
Consumer behaviors will take center stage this holiday season as they could shift and change quickly. Like the rest of 2021, the holiday season may bring some surprises that will require marketers and brands to adjust their strategies. Looking at trends from previous years and how the pandemic has shifted preferences and habits, year's holiday shopping will be very different, and brands should prepare for that as they plan their digital strategies this holiday season.
Think about other options or consumer trends that have appeared in 2021. The consumer behaviors learned during the pandemic will be comfortable for many consumers to continue, including curbside pick-up and pick-up in-store (BOPIS). According to a recent study by Adobe, BOPIS increased by 195 percent YOY in May due to the pandemic, and BOPIS is becoming the delivery method of choice for consumers.
These alternative delivery options are one example of how consumers are shifting their behaviors this holiday season. And this year, it will be even more vital for you and your business to stay on top of your digital advertising efforts, their results, and how the marketplace is shifting to ensure you are making the most of the holiday season.
Tip #5: "You want me to help?" we're here for you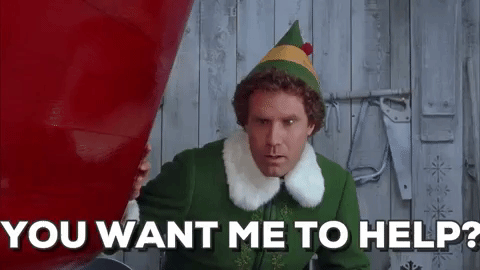 This year, many businesses and marketers are looking forward to the holiday season more than ever.  You aren't alone in hoping that the holiday season could help to make up for lost revenue during the beginning of the year and start 2022 with a positive note.
So, we're here for you. Reach out to our team of experts, and we'll help sprinkle your advertising campaign with some holiday cheer.