When you have a team this awesome, you can't keep an entire blog to yourself. That's why we're starting choozlechat, a series of blog posts with contributions from Choozle thought-leaders across every team. Today, we'll dive into self-serve programmatic and what that means for your business. Have an idea for a choozlechat? Email us!
---
Megan Sullivan-Jenks, Director of Marketing at Choozle: I sometimes like to kick these off by asking the most important questions first. If you could only watch one movie for the rest of your life, what would it be?
Rachel Mimken, Director of Client Experience at Choozle: Easy, The Lord of the Rings: The Fellowship of the Ring.
MSJ: What are some of the biggest advantages, in your opinion, of in-house programmatic?
RM: Control, gained expertise, and efficiency (both cost and time).
MSJ: What are some things brands and agencies can gain from making the switch to self-serve in-house programmatic?
RM: Notably, there are the economic benefits to making the switch. Removing the 3rd party management layer removes extraneous fees and time; making your campaigns more efficient. On the revenue gain side, agencies, in particular, are adding new expertise and service offerings, which translates into more budget across new and often existing customers from what we've seen.
That expertise gain is hugely important. Marketers are hired to bring strategic insight to the brand. By putting these folks in the driver's seat we've seen great execution of campaign strategy. A campaign trafficker is going to have a tough time, though an IO (insertion order) spreadsheet, understanding all the nuances of the brand and campaign strategy versus the Marketer. The Marketer directly, given the right training and tools, is predisposed to deliver the best return in my opinion.
The way I see it, learning how to operate a new software system is a heck of a lot easier than becoming proficient in strategic marketing concepts and the nuances of a brand's specific vision. Can you tell I'm a self-serve programmatic fan?
MSJ: You're certainly in the right business! What steps does it take for an account to switch from fully-managed to self-serve, in-house programmatic?
RM: The Marketer, with the support of their organization's leadership, needs to be invested in the process. A self-service test will fail if expectations are not set properly and reasonable effort to learn is not put forth. For example, launching a $500 campaign for 1 week is likely not going to perform due to time and volume. Not enough time to optimize and learn; not enough volume to be statistically sound to base decisions from. For actionable tips to getting started, I would check out our Platform Enablement Guide.
(For Choozle clients), Yes, our Client Experience team is going to help train you up on the system, campaign strategy, and industry, but it's all for naught if you're not going to take the steps to educate, retain, and put to use those learnings. Self-serve programmatic is an investment in yourself and your company or agency. Treat it as such and you will be rewarded.
MSJ: What are the most frequently asked questions you and your team see?
RM: The concepts we spend a ton of time on are:
How to interpret win rate and use it as the key optimization tool it is
How to create a successful data audience based on your desired outcome
Setting client expectations on performance. For example, a display campaign will not have the same conversion rate as paid search, but a solid display campaign will simultaneously lift paid search results. All boats rise…
We also heavily support our clients by interpreting the latest news cycle crisis and industry trends, as well as just generally cutting through the bull to help keep them informed.
---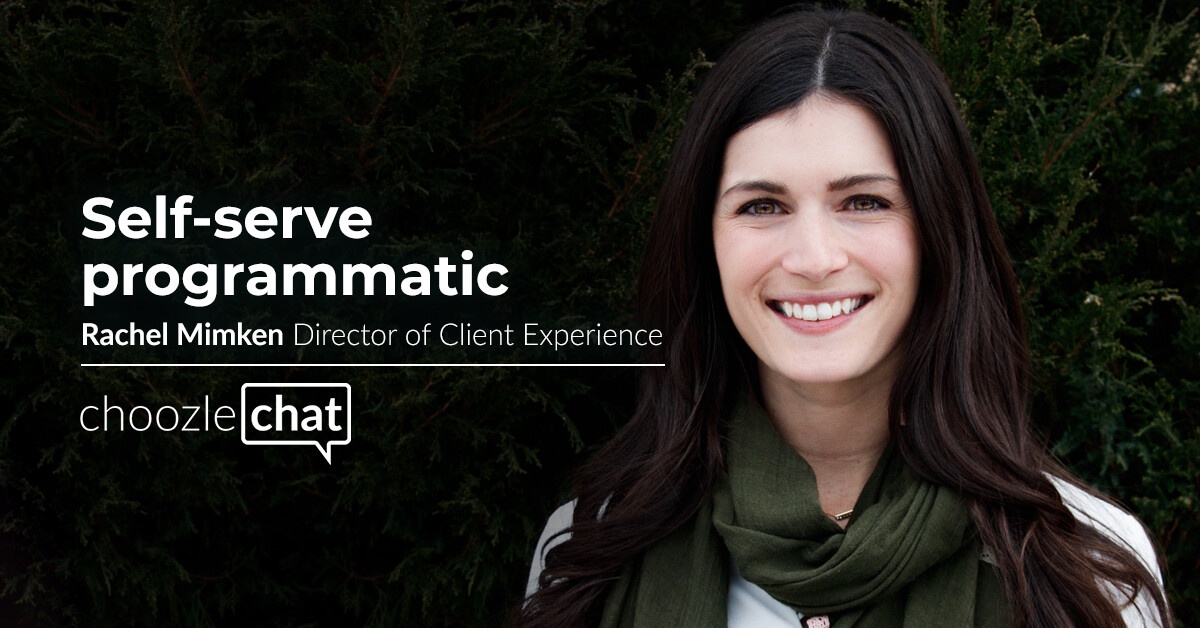 Rachel heads up the Client Experience team at Choozle. Her team provides advisement to Choozle's partners on campaign strategy, industry trends, in-house operations and how to otherwise leverage the power of programmatic advertising for their businesses. A New York native, Rachel came to Denver for grad school and stayed for the sunshine, mountains, and startup community.