Choozle's mission is to Power Every Brand. The path to growth is different for every brand, from planning your strategy, optimizing in real-time, and understanding what is available to fuel your growth. That's why we provide a people-powered platform where you can understand, plan, execute, and grow your business in a way that's uniquely tailored to you.
Choozle is here to help you do the most with what you have while empowering you to focus on what matters most to your business. We do this through our people-powered marketing platform combined with a partnership that fuels your insights, success, and understanding of the advertising and marketing industry with a wide range of tools, tactics, and reporting to grow your business. Choozle partners with you to grow and adapt as the marketing and advertising industry changes.
---
Democratizing digital
Digital advertising can practically reinvent itself overnight. The tools, strategies, and privacy policies that set the course for how advertising is done are complex and in constant motion. That's why Choozle is democratizing the digital space by providing easy-to-use tools, best practices, and dedicated team members to keep your digital marketing strategy growing rather than leaving you to pick up the pieces and figure out what went wrong. Between launching, targeting, and optimizing campaigns it's important to understand what channels and capabilities will yield the outcomes you are seeking.
When you do find yourself in need of someone to talk to for advice, education, technical guidance, or just a sounding board for experimentation, Choolze's team of industry experts are available and equipped to help find what works for you.
Outside of the people on our team, Choozle has a vast Knowledge Base and resources center that cover media strategy, how-to guides, and the ins and outs of the Choozle platform. Understand the upcoming trends influencing the digital advertising industry and stay on top of best practices and solutions you can use to deliver outcomes. Access information about your brand growth strategy across all of your data sources, understand relevant trends, and refer to in-depth documentation like our digital advertising glossary.
People-powered marketing hub
Access your digital marketing data, planning, and execution needs all from a single hub powering your efforts. The tools, channels, and reporting options you use to reach and convert your audience are accessible through Choozle. View your campaign success across platforms including GoogleAds and major social media platforms. Leverage cutting-edge programmatic solutions that can connect your brand with people, wherever they are. Across the open web, you can power your strategy through precise targeting that reaches your audience to ensure your message is received.
For more targeting depth and capabilities you can utilize data via Choozle from Amazon's DSP (Demand Side Platform). Shopping for inventory and data through Amazon's walled garden will yield consistent access through a direct buying path that will not be affected by the deprecation of third-party cookies. Their massive segments of data can capture audiences on and off of Amazon owned websites.
Programmatically buy TV advertising with Connected TV (CTV). Connected TV brings your digital campaign to the biggest screens in the household with more flexibility, detail, and control compared to traditional TV. CTV is the path forward for brand awareness campaigns. Target audiences with the same tools as your other Choozle campaigns and tap into huge potential audiences during live events. Shop for curated premium deals on Choozle's deal explorer, and ask our Account Management team about the exclusive Amazon FireTV access for Choozle users.
Or try taking your campaigns from the web to digital-out-of-home billboards. Reach your audience even when they are away from their own devices. Leverage targeting tactics that can coordinate ads by time and proximity to points of interest with the detailed reporting you expect from digital campaigns. Show ads in bars, restaurants, gyms, resorts, taxis/rideshares, and more so you can develop brand resonance with unique audiences.
Mastering the channels, segmentation, and optimizations that will work for your goals will take time and experience. Choozle's improved dashboard is built to reduce friction during setup and help you quickly access all of your campaign creation options. In-depth reporting dashboards are also available to show live results clearly with visualizations and data. Choozle's reporting can be used as an all-encompassing data source to understand your marketing performance and what you can do to optimize your outcomes. If you're brand new to digital media buying or experienced, there is more to learn and experiment with from data-driven insights that will help impact your results.
Choozle's growth loop
Choozle's mission surrounding our product is only made possible by having a people-powered organization. The teams of people and experts dedicated to guiding and improving your experience are the central part of how we power our growth for brands. When your brand grows you are able to reinvest your marketing growth and continue connecting with people who understand your message.
Wherever you are in the process, start working with real marketing experts who understand your desired outcomes and can create a strategy based on what works for you. Fully explore all of the options available through Choozle and find the channels that will drive the results you want to see. Develop meaningful creatives both specific to campaigns as well as evergreen content you can consistently count on. Execute your campaigns with your specific parameters and audience targeting using Choozle's easy-to-use campaign management tools. Finally, understand your campaign's results and successes through Choozle's Detailed Reports dashboard and continue to use your data to create campaign optimization and reconnect with the Media Strategy team for continued planning.
---
Choozle is your partner to power your brand. Tools and teams are driven to develop ongoing success and meaningful outcomes for every brand we work with. If you want to learn more about what tools and collaborations are available, reach out to our team of experts today.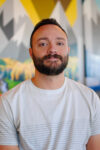 Kevin Gentry is Choozle's Senior VP of Product. He works to align the whole Choozle team as we drive rapid innovation across our core platform and the complementary solutions that power every brand we work with. When he's not at work you can find him playing music with his bands, spending time with his daughters and wife, and podcasting.