Before a consumer makes a purchase, they are exposed to roughly six to eight marketing touchpoints before they make a decision.
The major problem is that most visitors will never come back to your website to complete the sale. So how do you follow up and make the six to eight contacts required to build trust and earn attention throughout the marketing funnel? The solution is digital ad retargeting.
What is Retargeting? Ad retargeting, also known as remarketing, is a bottom of funnel campaign tactic in which you target an audience of users who have recently engaged with your website, content, or social media and have not converted for a sale yet.
---
Retargeting is a digital marketing strategy that uses data captured from several sources, including first-party data and the Choozle Smart Container Tag, to show your ads to users who have previously demonstrated interest in your product.
When a visitor reaches your website, if the Choozle Smart Container Tag is set up correctly, it will trigger and start to record the user's actions on your site. This will allow you to earmark and target these people with customized ads wherever they go online. Remember, with data privacy changes, part of the General Data Protection Regulations (GDPR), you'll need to ask permission from your visitors to place cookies or collect data via pixels.
You can also capture users who have clicked on your campaign's creative assets and retarget them with new creative assets related to what they have seen before or even the same ad they've already engaged with. Make sure your ads have a strong call-to-action to understand what content they are engaging with most.
Context in the marketing funnel
No matter which retargeting audience you choose, reaching users in the lower stages of the marketing funnel will allow you to show your ads to people who have already indicated that they're interested in your brand. During the conversion stage, you are engaging with customers who have the information they need to make a purchase, all they need is the right offer. This is the stage where the content of your messages and the frequency of your ads can shift to a conversion strategy. A retargeting campaign can help deliver your best offer to the right audience, in the right place, at the right time.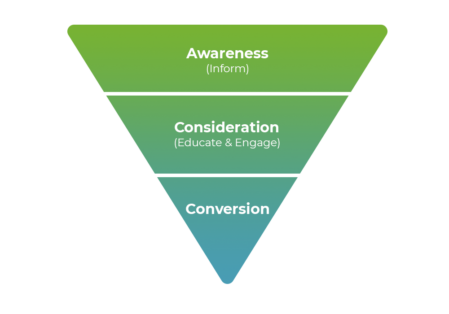 Consider a marketing campaign with the goal of converting for a high-value sale with a longer marketing cycle. Retargeting is a strategy you can use to focus on creating conversions as a part of your later strategy driving users through the sales funnel.
For example, a car dealership leveraged retargeting to reach users who built and priced a car on the website to drive them further down the purchase funnel. Their retargeting campaign allowed them to reach users who had converted on other incremental goals like locating a dealer or requesting a quote. Additionally, the dealership used recency and frequency optimization tools in order to adjust impressions and bids based on how recently the user had engaged in the desired actions to effectively target their most interested customers.
While retargeting is very effective for the later stages of the marketing funnel, your overall results will rely on the success of your awareness/top-of-funnel campaigns. These brand building and educational efforts will supply your retargeting campaigns with an engaged group of people to continue pursuing with your best offers.
When you create a full-funnel marketing campaign that supplies your later stages with highly engaged audiences who have already interacted with your ads, you are able to launch a highly targeted campaign with no additional cost using your first-party data. Refer to our CPM cheat sheet to help guide your bidding throughout your campaigns.
---
Types of Retargeting Strategies
Site Retargeting
Site retargeting is what most people think of when they think of retargeting campaigns. Leveraging the first-party data you've collected through your website using the Choozle Smart Container Tag, you are able to create audiences of recent visitors on your website. This will help you stay in front of an engaged audience who has already viewed some of your content.
Search Retargeting
Search retargeting is a tactic that utilizes search engine data and the browsing history of users to allow you to advertise to an in-market audience based on what they are searching for. With specialized data partners, including Cross Pixel and Datonics, we are able to create segments based on search behavior which will power retargeting campaigns for in-market groups.
CTV/Cross-channel Retargeting
Leveraging targeting data from connected TV, desktop, and mobile campaigns, you are able to market to your ideal audience across all of their devices. By layering retargeting tactics with previously engaged audiences, you are able to stay in front of shoppers after they visited their website or see your ads. Read a case study showing how a brand drove a 1.64x RoAS with their retargeting strategies.
Creative Asset Retargeting
Creative asset retargeting will allow you to target users who have engaged with one of your ads within the past 60 days. This is a great audience to target with additional ads to supplement the content they've already engaged. For example, showing clickable display ads to a group of users after they've seen your CTV ad compliments branding with a click-to path for conversion. Contact your Account Coordinator to set up CTV attribution.
Social Retargeting
Coordinate and maximize your marketing effort across social channels to continue reaching your audience both on the open web and closed social platforms. Social retargeting can be an incredibly effective way to capture more sales and build relationships with shoppers after they've left the site.
Conversion Retargeting
For businesses with longer sales cycles and higher value conversions, targeting consumers who have converted on lower funnel activities will ensure you are marketing to users who are already aware of your brand and are ready to make a purchase.
Retargeting Audiences for Exclusion
Retargeting can also be used to ensure you are only reaching brand new customers across the marketing funnel. Utilizing the same retargeting group you are able to create a blocklist for campaigns so you can focus your brand message towards brand new customers before driving them down the marketing funnel.
---
Retargeting can help you stay in contact with your most engaged audiences. When you are marketing to drive conversions, speaking directly to the people who have already demonstrated interest in your product or website will help you create customized campaigns that are tailored to those users and only visible to them.
---
Zack Rosse is a Content Specialist at Choozle – Easy Digital Advertising®. Always learning and connecting the dots, Zack helps translate some of the tougher answers to simple questions marketers ask themselves. Outside of the office, Zack loves hunting for old vinyl to add to his collection and picking up garbage on his favorite walking trails.